"Fast, precise and cost-efficient! Manufacturing aircraft engine blades with F-Grip brings enormous advantages", knows Sandra Merrien, F-GRIP Project Manager from Fresmak, a Spanish manufacturer of high pressure vices. "F-GRIP stands for an innovative clamping system making use of a specific adhesive that we developed for fixing metallic parts during machining. After the machining process, the adhesive can be removed without residuals on the surface of the part. In addition, the adhesive can even be recycled."
During production of blades for aero-engines the capability of the clamping systems used for the different manufacturing processes is of great importance: In order to machine the root and the shroud portion the part has to be clamped in the area of the complexly shaped and thin airfoil profile. In many cases this is done by encapsulating the airfoil into a block of low-melting alloy. The block is then used for clamping during machining and subsequently is removed by melting. This encapsulation process cannot be considered to be a green process, in addition to lead time and costs.
Our goal is to find new ways to process our parts in sensitive areas more efficiently.
The challenge
For Leistritz Turbinentechnik GmbH which is a partner to all aerospace OEMs ensuring the high performance of their blades in aero engines is of utmost importance. "Enhancing the blade manufacturing process with F-GRIP seems to be a very progressive alternative to conventional clamping and machining", says Dr. Marianne Baumgärtner, Director R&D at Leistritz. "That is why we wanted to put it to the test."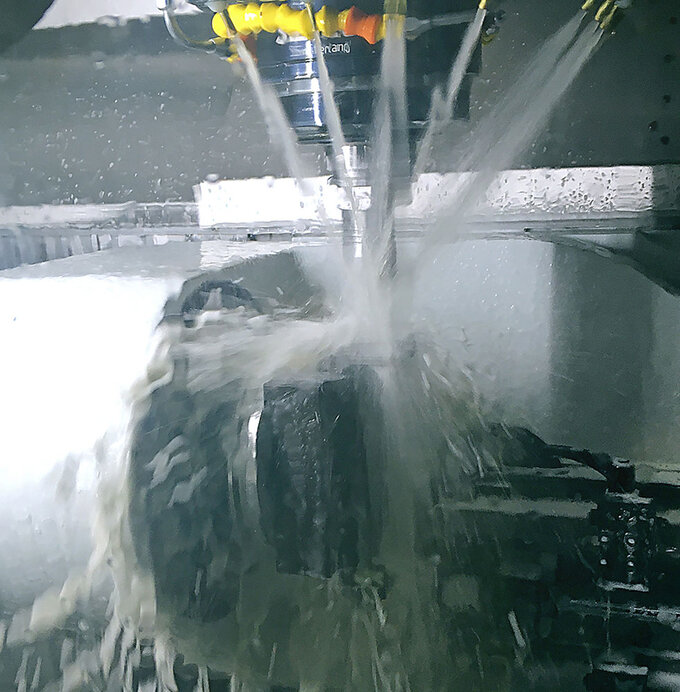 In October 2019, Fresmak performed in a planned iteration the 3rd F-GRIP demonstration tests for Leistritz. The test campaign was performed in the facilities of ACCESS e. V., a technological center and long-term partner of Leistritz in developing materials and manufacturing processes. "For this demonstration of effectiveness, we challenged Fresmak to clamp an aero-engine blade by bonding the convex side of the airfoil to the fixture", says Hans-Christian Melzer, Director Business Development. The blade is made of Titanium Aluminide, an intermetallic material that has very similar mechanical properties to Nickel casting alloys at half the weight.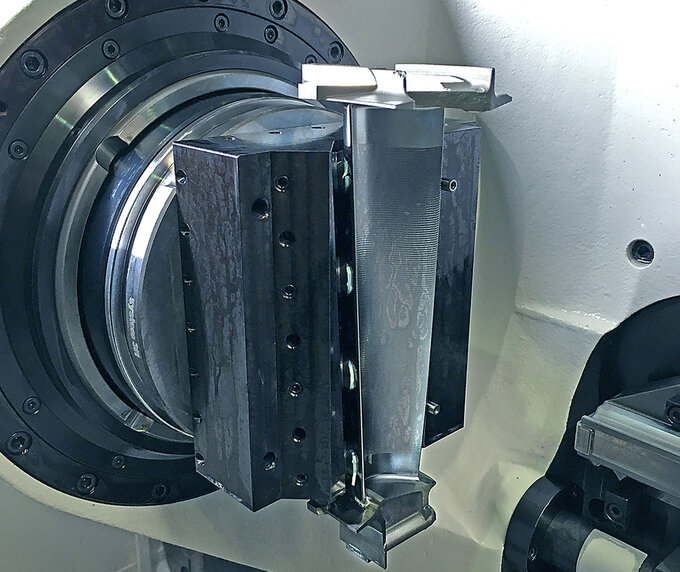 The machining tests were conducted under representative production conditions with no discount to machining forces, tool speed and feed rates compared to conventional clamping methods and serial conditions. The trials comprised 15 pieces which have been fully dimensionally inspected.
For Leistritz the test run was a great success as it confirms the possibility to clamp parts by adhesion using moderately curved surfaces, thus opening new applications. "For us these results pave the way to new options to fix parts in sensitive areas and machine those parts with higher efficiency resulting in greater competitiveness", says Melzer.