Our product range extends from various engine components to blades, discs, blisks, housing and structural parts. Here, it is not only the quality that matters, but also the use of economical manufacturing processes.
That is why we offer our customers solutions with maximum efficiency:
Starting with the order of the raw material through to the delivery of the ready-to-assemble parts. In order to guarantee high quality and maximum efficiency, we are constantly working on continuously optimizing our processes.
We are a partner for all renowned OEMs and module suppliers in the aircraft engine industry.
Our core business is the manufacture of engine blades, discs and components.
With our safety-relevant components we make a big contribution to the aviation sector: Today, modern aircraft engines use components from Turbine Technology throughout the world.
In cooperation with our customers we push the technological progress in order to achieve future market requirements for high-quality components.
Aero en­gine air­foils
Leistritz has been a partner for aircraft engine manufacturers since the very first jet engines, helping develop and manufacture turbine airfoils from extremely tough materials such as high-temperature steels, titanium and nickel-based alloys. Leistritz Turbinentechnik supplies such airfoils as either forged blanks or ready for assembly.
The focus is clearly set in the field of compressor airfoils. The precision and dimensional accuracy of the compressor airfoils are decisive for the power and output of an aircraft engine. This is why the manufacture of the aerodynamically-shaped, complex airfoils geometries with the narrowest of tolerances is a particular challenge.
Depending on the component requirements, we use our versatile technological know-how in the shaping, processing and finishing of metallic materials to develop and apply manufacturing processes for rotor as well as stator parts. A special feature in this product group are integral vane cluster which we can manufacture in both titanium and nickel materials. Our product portfolio ranges from the most complex low-pressure rotor blades through to the smallest outlet guide vane. Our claim is that we support our customers – whenever possible – in the early stage of development so that we can jointly develop at a technically mature, ready-to-install serial product.
Aero engine disks
The demands on disks in modern aircraft engines are growing steadily. An increasing efficiency calls for higher temperatures in aircraft engines and thus increasingly better materials that are usually difficult to forge. Our production program covers all rotationally symmetrical aircraft engine components such as full disks, rings, shafts and cones up to a weight of 300 kilograms and a diameter of 1,100 millimetres.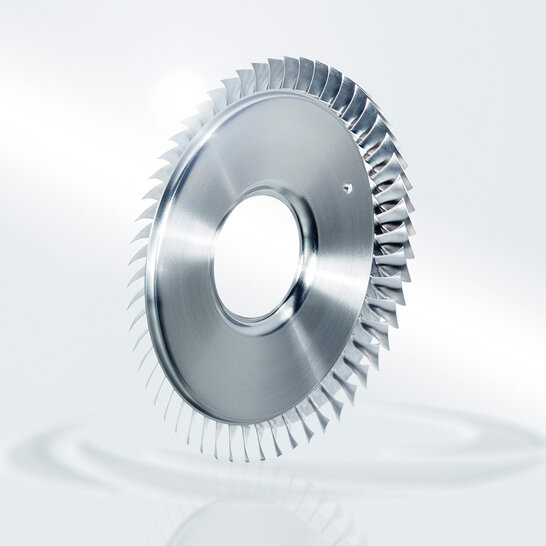 After forging on presses by conventional or isothermal methods or on counterblow hammers, the products are heat-treated in several steps and subjected to extensive, non-destructive testing. We supply the disks according to the customer's wishes as forged parts, with an ultrasonic contour, almost final shape or turned to the final contour. In cooperation with our works in Nuremberg we can also supply ready-to-install 'blisks', in other words disks with integrated blades. Aircraft engine disks from Leistritz are 'Class 1' aviation parts and thus satisfy the highest requirements of our customers.
The development of modern aircraft engines is dominated by efforts to increase the power density by improved, weight-optimised components. Blisks, integrated blades/disks, make an important contribution in compressors. We rely on our skills in processing disks when manufacturing blisks – be these prototypes or for serial production and use our know-how in the production of aerodynamic blade profiles.
In addition to manufacturing by 5-axis milling, we have also developed a specific ECM process that is particularly economical with high-strength titanium alloys and nickel alloys. We often use forgings from our own production for finishing.
We manufacture an increasing number of parts for aircraft engine casing as well as other structural parts for aviation. The trend for lightweight constructions is leading to a re-design of traditional cast parts as components from a forged material. Our portfolio ranges from forged annulus fillers from an aluminium alloy, brackets and bearing supports of special steels or to top lugs (aircraft engine holders) of a nickel-based alloy. The feedstock for our production is usually an oversize forged part.
Milling and ECM/PECM are used for mechanical processing. Through an optimized combination of processes from our technology toolbox, we are able to offer economical and technically mature solutions in this field of aircraft engine components.
Ti­ta­nium alu­minide tur­bine blades
The latest generation of modern aircraft engines rely on blades of gamma-titanium aluminide materials to save weight in the low-pressure turbine. These new material classes have a thermal stability comparable to that of nickel-based alloys, but only half the density.
Depending on the required properties profile of the components, they are manufactured by either precision casting and/or forging, each with a subsequent processing to the finished size.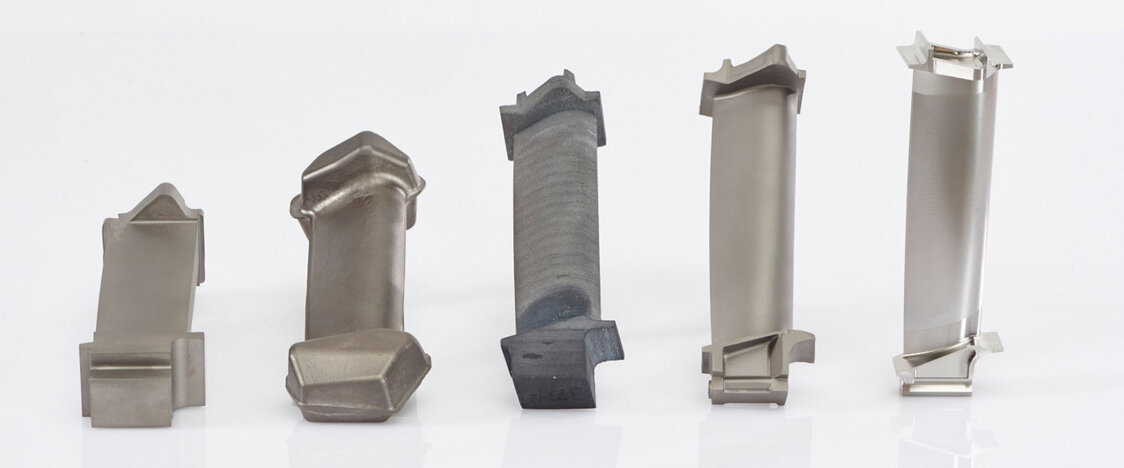 As a specialist for shaping and processing technology we also offer suitable production methods for this new group of products: titanium aluminide is very brittle and can only be shaped at a very high temperature and at an extremely low forming rate. We have developed a specific isothermal forging process for this purpose. Special milling, grinding and testing methods are also used to manufacture ready-to-assemble blades which can be used equally for the casting and forging alternatives. Production know-how that has been gathered over almost two decades is reflected in customised process chains and deliveries for almost all worldwide applications.
Leistritz Turbinentechnik Team
Leistritz Turbinentechnik GmbH
T+49 (2191) 6940-321
F+49 (2191) 6940-282