Our customers are amongst the market leaders in aviation. This is why it is natural that we have to be leaders in our technologies, too, so as to enable cooperations as partners and to satisfy the requirements in terms of costs and quality.
Leistritz is involved in research and development projects in collaboration with universities and research institutes so that we always have our hand in on the latest basic developments. Our machinery is kept up-to-date and we regularly try out new manufacturing concepts.
A balanced mixture of experienced staff and young engineers guarantees the passing on of knowledge and rejuvenates our know-how with modern technological and organisational approaches.
Engineering
Our customers develop outstanding technical components for their specific application cases. We support them in all phases of the product's life by providing manufacturing know-how. The focus here is on engineering. The use of simulation and optimisation tools as well as modern 3D machine programming are a matter of course today.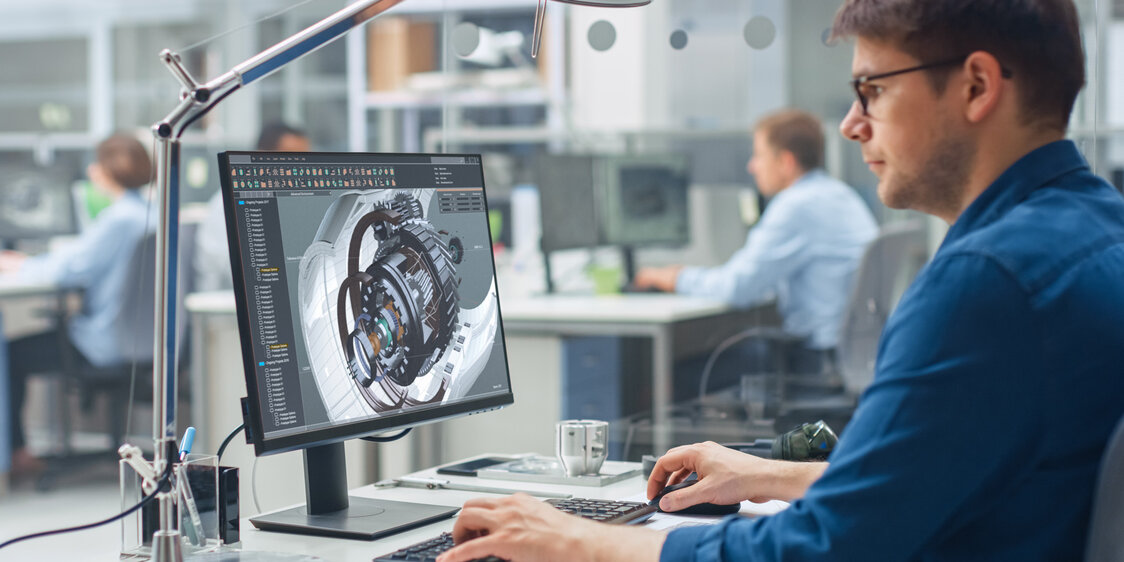 The engineering experience of our staff in conjunction with our own tool shop and the production of our own processing machines and tools are a further quality factor of Leistritz. The offer is rounded off by a very good project management and work in interdisciplinary teams with the regular involvement of our customers.
Forging for aero industry
We use precision forging to manufacture compressor blades with a thickness and profile tolerance of only a few hundredths of a millimetre. The gas duct with inlet and outlet edges and platforms on the foot and shrouding band are forged so precisely that no subsequent machining is needed to achieve a ready-to-install condition. This economical procedure is standard for almost all compressor blades from Leistritz.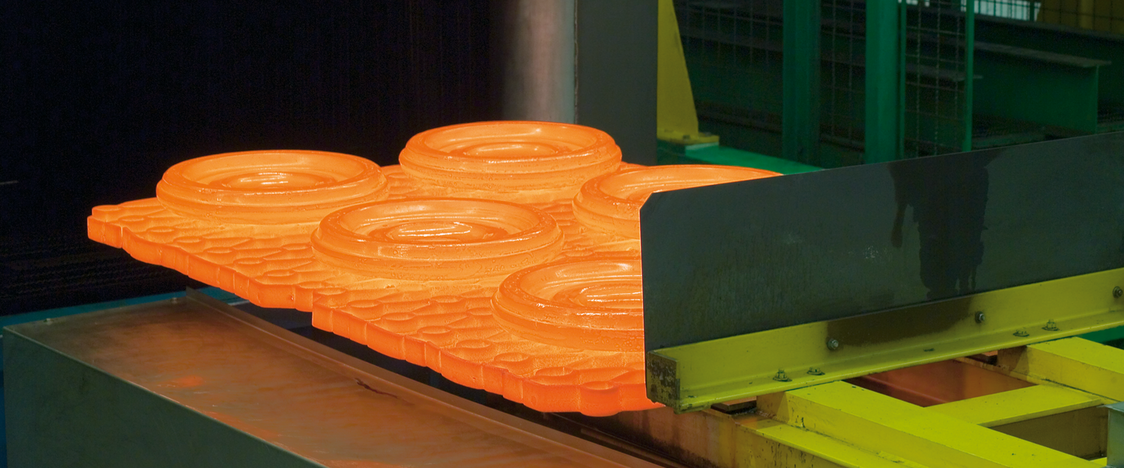 In classic forging processes on presses or counterblow hammers, we produce aviation structural parts and disks with component weights of up to 300 kilograms that require no isothermal forging. Examples of the materials used include titanium, Udimet and steel.
The coordination of the individual stages of shaping is carried out in the development phase by means of numerical FEM simulation. The tools are then manufactured on high-precision, 5-axis milling centres in our own tool shop. Highly-qualified and motivated staff as well as the use of energy monitoring at the shaping units, statistical process control (SPC) and quality data acquisition (QDA) throughout the entire production guarantee the excellent and constant quality of the products, an indispensable requirement for precision forging.
Isothermal forging
During isothermal forging, the dies are heated to the same temperature as the forged part. This allows shaping at any rate without the forged part cooling down. This process sometimes also takes place in an inert gas or vacuum. This complex technical procedure keeps the shaping forces low and ensures an even, fine-grain microstructure with the resulting outstanding performance characteristics.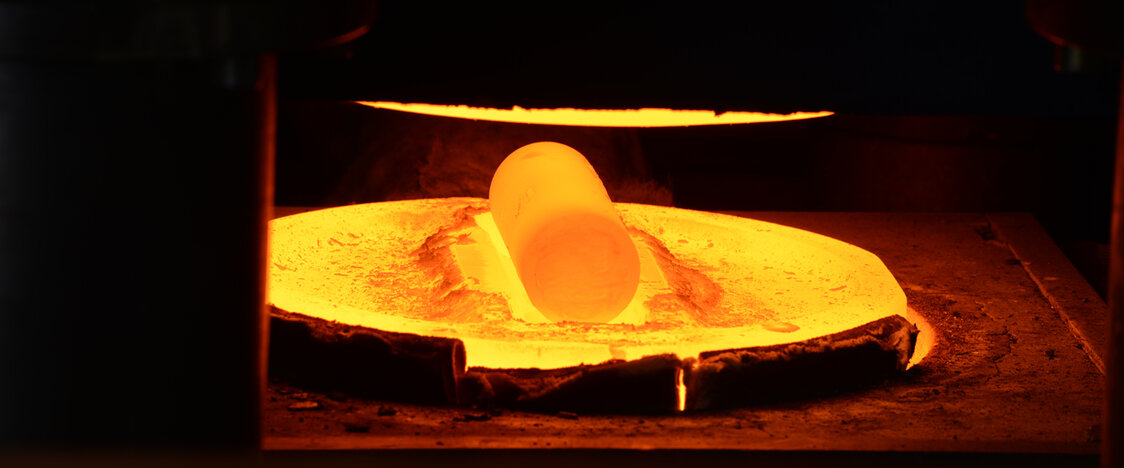 However, it calls for a lot of know-how and special machinery. Materials that cannot be forged conventionally such as titanium aluminides or powder metals can now be shaped by this process. Special tool systems of nickel-based or molybdenum materials are used for this purpose. Leistritz has been using this method for many years to forge aircraft engine disks of titanium and nickel alloys, and more recently to forge turbine blades of titanium aluminides, too.
ECM - Electrochemical Machining
We use the ECM process to manufacture the most complex compressor blade profiles – a speciality of ours. ECM is a method whereby the material is removed without physical contact. We began to use this special method in series at the beginning of the 1970ies and have now manufactured more than 15 million compressor blades in this way. The Leistritz ECM process guarantees maximum precision and repeating accuracy for the production of difficult, 3D-twisted blades. Aerodynamic profiles with complex 3D geometries and elliptical front edges are also produced in one operation with an excellent surface finish.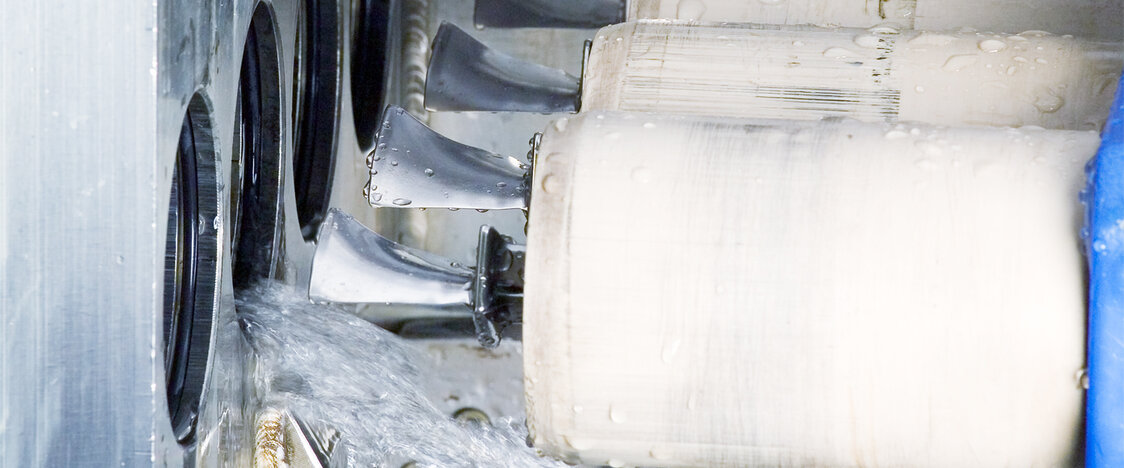 ECM allows you to process all electrically conductive materials – regardless of metallurgical properties and strengths. ECM is ideal for processing the high-temperature titanium and nickel alloys that are hard to machine and the new material class of titanium aluminides that are common in aircraft engine construction.
ECM is a key technology at Leistritz that is used on self-designed systems to manufacture single blades and blisks and to machine structural parts. The competence centre is located at our Nuremberg site.
Mechanical machining
We use the latest technologies for machining – to both manufacture engine aircraft components of bar stock and to finish forged or precision-cast components. Whether lathing disks and blisks or milling and grinding blades or structural parts – Leistritz always has the right solution.
The latest generation, multi-axis machining centres as well as self-developed special machinery are used to satisfy the highest customer demands on product geometry and process reliability. The lynchpin here is the use of optimised processing strategies on the basis of ideally adapted clamping and machining tools with the help of the latest methods of computer-assisted process simulation.
Leistritz Turbinentechnik Team
Leistritz Turbinentechnik GmbH
T+49 (2191) 6940-321
F+49 (2191) 6940-282