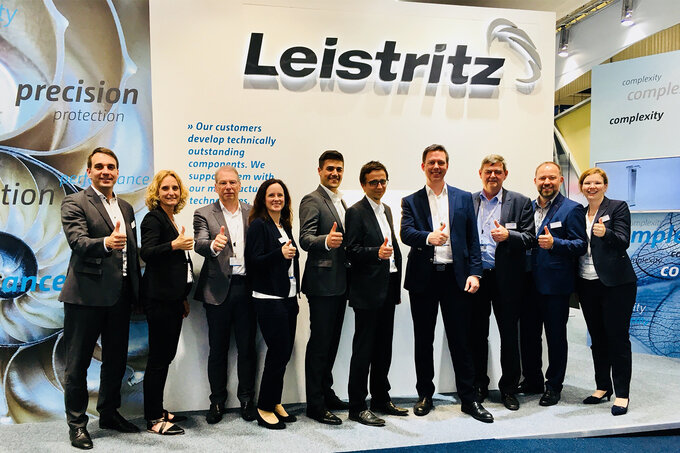 There were many highlights at this year's Paris Air Show 2019. For the Leistritz team one of them was certainly the brief visit of French President Emmanuel Macron. During his walk around the trade fair he visited the German Pavilion of the BDLI and also stopped at the Leistritz booth.
Imitating nature
This year, Leistritz business unit Turbine Technology presented its manufacturing expertise under the motto "Inspired by nature". "The production of complex geometries with the highest precision is crucial for delivering perfect results. Just like nature, which creates accurate strategies and shapes, we strive to fully meet the high expectations of our customers," says Managing Director Dr. Mathias Klein, explaining the concept.
Leistritz therefore demonstrated the production of complex blade designs and the use of critical materials using blisk exhibits, among other things. In the fan area, the team presented a patented process that combines forming technology with additive and subtractive processes and, thanks to its scalability, is suitable for producing metal leading edges to protect carbon fiber blades. The novel approach allows flexibility in material selection and cost advantages. The company proved that dimensional accuracy in narrow tolerance ranges and perfect surfaces are characteristic of modern blade geometries with products manufactured on a new generation of ECM machines developed in-house: the PECM (Pulsed ElectroChemical Machining) systems.
"The Paris Air Show was again very successful," summarizes Dr. Klein. " Not only have we talked to many customers and interested parties. It was also an important platform to listen to the latest market trends."